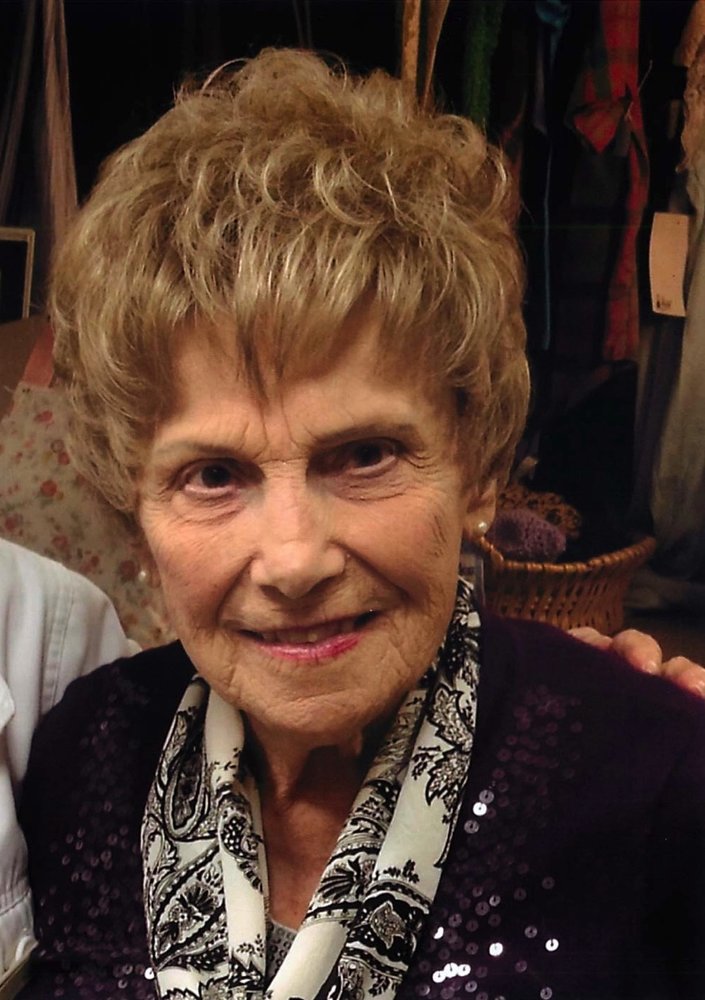 Obituary of Dorothy Solomon
Dorothy "Dot" Solomon, a loving mother, grandmother (Nana) and great-grandmother, who embraced a zest for life while showing tender devotion to her family, died Monday, Nov. 20, 2017, at her Board & Care Home in Thousand Oaks, Calif. She was 95.
Dot was always the first one on the dance floor at weddings and b'nai mitzvahs, the last one in the kitchen washing dishes, and the best one to comfort a crying infant.
"She was the baby-whisperer," recalled her children.
Dot was born into a "blended family" on Sept. 14, 1922, in Philadelphia, a daughter of Nathan and Gertrude Mirkin. Nathan was a widower with four children; Gertrude had a son, Sol, from a previous marriage. Nathan and Gertrude then had three of their own children: Dot, Robert and Beatrice.
With both parents working to make ends meet, Dot took on the role of helping run the household – a trait that served her well when raising her own family and later helping care for grandchildren.
Dot also developed a fierce sense of protectiveness that belied her petite stature.
According to family lore, as a teenager Dot was so upset by the miserable conditions at the factory where her mother worked as a seamstress that she stormed into the building, sought out the foreman and yelled at him.
An active woman who throughout life bustled rather than walked, Dot was a proud member of the gymnastics team in school. She never failed to mention this, even as an adult, when asked about her hobbies. Dot also was a passionate bowler, competing in a league and switching to a Wi version of the sport in her later years.
After graduating from high school, Dot met the love of her life, Bernard Solomon, and they wed the day after Valentine's Day, Feb. 15, 1942. Dot and Bernie enjoyed 43 happy years together, raising two sons and a daughter: Edward, Steven and Karen.
Dot wasn't simply a homemaker – she was a fastidious household manager, making sure the kids were always immaculately dressed and the home always "ready for company." At the same time she was active in Hadassah, the Jewish women's organization, and later did volunteer work for the Deborah Heart and Lung Center in Browns Mills, N.J.
Dot also was active in Temple Adat Elohim in Thousand Oaks, Calif; as part of the temple sisterhood she ran the Havurah, a group gathered to celebrate Shabbat and holiday prayer services, share communal experiences and discuss Jewish learning.
In addition, Dot was a ferocious opponent at the board game Rummikub.
Dot and Bernie first lived in Philadelphia, where she did all her errands on foot, but after they started a family and moved to the suburbs Dot realized she had to rely more on the automobile.
Dot surreptitiously enlisted the assistance of her elder son, Ed.
"During my senior year of high school in 1960 I was driving my pregnant mother around town and also teaching her how to drive before Karen was born," Ed recalled. "I tried to keep Mom focused on the brake vs. the gas pedal. There were some funny experiences during those lessons. It was quite the sight, driving my pregnant Mom, looking very young, and wondering what my friends were thinking," he added.
Dot passed the test and proudly produced her new license one night during dinner, much to the surprise of her husband.
Dot's beloved Bernie died July 5, 1985, and four years later she moved to California to be closer to her daughter and son. She first lived in Mission Viejo and in 1997 relocated to Thousand Oaks.
Dot made many new friends in California but most of her activities revolved around family.
Her son, Ed, recalled one memorable trip to the Oregon coast in which 10 family members squeezed into a camper.
"Although we stayed in motels, we stayed in the camper for one night," he said. "After that night we made sure to make hotel reservations."
Dot spent her final days in the comfort of her family, with support from Hospice.
After so many years of dedicated caring for Karen and her four children, Dot was honored by the loving attention of Karen and her family, who oversaw her medical care and ensured that her quality of life was maintained.
At one point Dot opened her eyes and reflected simply on her life. "I did my part," she said.
Dot is survived by her children, Edward (Roberta) of Walnut Creek, Calif.; Steven (Diane) of White Plains, N.Y.; and Karen (John) Persichetti of Thousand Oaks, Calif.; grandchildren Sheri Rosenhan (Jack), Jodi Cook, Jeffrey (Clara) and Michael (Anna) Solomon, Bryan, Justin, Aurora and Rebecca Persichetti; and great-grandchildren, Bella, Nadia, Toby and Mara Solomon, Zachary Proctor, Makayla and Ethan Cook. She also is survived by a sister, Beatrice Kauffman, of Philadelphia.
Funeral services will be held at 11 a.m. Wednesday at The Goldstein Funeral Chapel, 2015 Woodbridge Avenue, Edison, N.J. Following the service, interment will be at Mount Lebanon Cemetery/Forest Lawn, 189 Gill Lane, Iselin, N.J.
The family will observe Shiva mourning at the home of Steven and Diane Solomon,
25 Rockledge Ave., Apt 808, White Plains, N.Y., from 6 to 9 p.m. Thursday, Saturday and Sunday, and from 1 to 4 p.m. Friday. Additional mourning observation will take place at the California homes of Edward and Roberta Solomon, and Karen and John Persichetti, at times and dates to be determined.
Donations can be made to Alzheimer's Foundation of America (https://alzfdn.org/support-us/donate/) or to:
Temple Adat Elohim
2420 E. Hillcrest Drive
Thousand Oaks, Calif. 91362
Attn: Cantor's Discretionary Fund