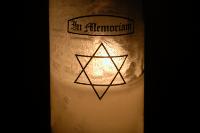 William L Reiner
Mr. Reiner, who was born in Morristown the son of the late George and Sadie Reiner, was raised in Boonton and after getting married moved to Parsippany where he resided for many years. He was a Korean War Army veteran and had attended Fairleigh Dickinson University. He worked for Allied Chemical, as the manager of Superior Foodtown Market in Lake Hiawatha and then Colony Trading, Elizabeth.
He is survived by his wife Helen, nee Freed, a son, Jeffrey, 2 daughters, Roberta Offsie and Lori Mele, 7 Granchildren and 5 great Grandchildren.
Graveside Funeral services will be held on Friday, April 13 at 1:30pm at Mt. Lebanon Cemetery Iselin NJ. Funeral arrangements are under the direction of Goldstein Funeral Chapel, Edison, NJ.