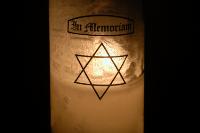 Melvin S. Coben
Melvin Stanley Coben, born Melvin Piatigorsky, February 6, 1922 in Dnepropetrovsk, USSR and previously named Melvin Cohen, died January 25th, 2018 in Somerset, NJ.
He grew up in Long Branch, NJ, attended Monmouth College, and graduated Penn State University with a Bachelor of Science in Electrical Engineering. Mel served in the Philippines and New Guinea as a Lieutenant in the U.S. Army Signal Corp. during WWII. He founded and managed the Star Technical Sales firm of Livingston, NJ. and was the recipient of a U.S. patent for his design of a hand-held circuit breaker testing device.
Survived by his wife of 73 years Elaine Coben (nee Gershen) of Somerset, NJ, his son Daniel (Vicki) Coben, daughter Debra (Glenn) Knobelman, six grandchildren (Diana, Jorel, Lizzie, Sasha, Asa and Richard) and six great-grandchildren. He was predeceased by his son Larry (Marcy) Coben.