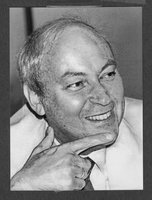 Robert Allen Moss
~~

The Moss family will hold a memorial program for Robert Moss, alav hashalom, on Sunday December 17 at Temple Neve Shalom in Metuchen, to begin at 12:30. The Moss family invites Robert's friends, colleagues, and acquaintances to join them for the memorial program and Luncheon to follow.
Robert Allen Moss—husband, father, grandfather, scholar, teacher, friend—passed away November 27, 2017, age 77. Born in Brooklyn on May 27, 1940, to Benjamin and Frances Moss, Bob grew up with Frances, her second husband Benjamin Goldfarb, and Ben's son Jerry after his father's death in 1950. Bob spent his childhood rooting for the Brooklyn Dodgers and tinkering with chemistry sets. While the former devotion was rewarded with only a single World Series victory, the latter laid the foundations for an extraordinary, 53-year career teaching and practicing chemistry at Rutgers University. After attending Stuyvesant High School and Brooklyn College, Bob earned his Ph.D. at the University of Chicago in 1962. One year later, while completing a postdoctoral fellowship at Columbia University, he met Sandra Wolman, then a student at Barnard. Bob and Sandy were married in 1967, made their home in Metuchen, New Jersey, raised two sons, and celebrated their fiftieth wedding anniversary earlier this year. Joining the faculty at Rutgers in 1964, Bob focused his research on dynamic chemical compounds called reactive intermediates, receiving grants from the National Science Foundation and the U. S. Army. Producing several books and over four hundred scientific articles, Bob won many awards for his work, most notably an Alfred P. Sloan Fellowship, a National Science Foundation Special Creativity Award, the Arthur C. Cope Senior Scholar Award from the American Chemical Society, and the James Flack Norris Award in Physical Organic Chemistry earlier this year. Outside the lab, Bob devoted himself to an array of lifelong loves: classical music, Sherlock Holmes, baseball, stamp collecting, poetry. Bob traveled widely and made many friends around the world; an active member of Temple Neve Shalom and Rutgers Hillel, he loved the state of Israel. Above all, he cherished and took pride in his family: his wife Sandra, his sons Kenneth and Daniel and their wives, Anne and Lindsay, and his grandchildren Isaac, Aaron, Celia, and Shoshana. In lieu of flowers, please consider donations to the Rabbi's Discretionary Fund of Temple Neve Shalom in Metuchen or to the charity of your choice. A memorial service will be held in Bob's honor, most likely on Sunday, December 17 (details to follow).
Friends are invited to help the family make a Shiva Minyan. Tuesday, Wednesday, and/or Thursday at 7PM at 33 Eggert Avenue Metuchen, NJ. The Shiva Minyan will continue on Saturday, Sunday and Monday at 7:30PM in Baltimore MD at 620 West 34th Street.